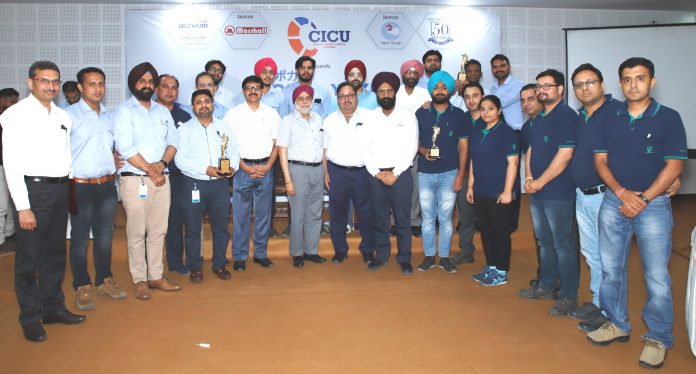 CICU Organized One day Training Program & Competition on  "Poka Yoke : Human Mistake Proofing" How to improve Quality & Productivity by using Japanese Concept at Sohan Lal Pahwa Auditorium, CICU Complex, Focal Point, Ludhiana.
CICU has been organizing various programs for the benefit of the industry and trade sectors of Punjab. CICU is instrumental in upliftment the standards of working in Ludhiana by providing such trainings & seminars at regular intervals. In one of such program i.e.  Training Program & Competition on "Poka Yoke: Human Mistake Proofing" How to improve Quality & Productivity by using Japanese Concept.
Sh. S.B Singh, Joint Secretary, CICU organised the beneficial event. He arranged all the necessary arrangements and called jury Sh. Sanjeev Katoch, General Manager, Institute of Auto Parts & Hand Tools Technology, Sh. T.P. Singh, Manager- R & D Centre and Sh. Jagdeep Saini – Manager (Training), CTR, Ldh for Poka Yoke competition.
He said that the main objective to organized this program to aware about Poka-Yoke and Lean Manufacturing, Understanding & Application of basic techniques relating to Poka -Yoke Concepts and to equip them with methods and procedures of Poka -Yoke in various types of organizations.
Sh. Onkar Singh Pahwa, CMD, Avon Cycle Ltd. was presided as Chief Guest. He appreciated the work being done by CICU for upliftment of the Industry.
Sh. Upkar Singh Ahuja, President, CICU said that the Poka-Yoke is the Japanese term which means mistake proofing and It is a way to produce the products having Zero Defects by fixing and eliminating man & machine errors. He also said that the Poka-Yoke is one of the most effective waste elimination tools used to establish lean manufacturing in the organization. This technique helps to reduce cost of poor quality and avoid 100% inspection. He also gave some simple examples, how to implement poke yoke in their industry.
Sh. Pankaj Sharma, General Secretary, CICU said that the Day-by-day, cost pressures are building up and Poka-Yoke technique can help to deal with the cost pressure by reducing waste. He also said that Poka-Yoke can be applied to all manufacturing and service processes.
He further said that this program was organized to create awareness, provide understanding & develop skills in participants to evolve perfection in their processes with no capital investment.
The program was started with interactive thought and training by Sh. Rajiv Sacher, Director, Operation, New Swan Auto component Pvt. Ltd. He is B-tech and Graduate in Psychology. He has more than 28 years' experience in Leading Manufacturing Industries. He elaborated about poka yoke and lean manufacturing, Basic Techniques relating to Poka Yoke Concepts and Productivity, Quality, Cost and Delivery etc.
17 Companies like Kay Jay Forgings, Steel Strips Wheels, New Swan Auto Component Pvt. Ltd.  G.S Auto International Ltd., Vardhman Special Steel Ltd., Farmparts Company, Eastman Industries, Citizen Group, Mehta Engg., Kangaroo Industries Ltd., Guru Nanak Auto Enterprises participated in Poka Yoke Competition.
The Following Teams won the First, Second and Third Award.
Winner – M/s New Swan Enterprises Unit-II.
Second Winner – M/s Steel Strips Wheels Ltd.
Third Winner – M/s Vardhman Special Steel Ltd.
The Vote of Thanks was presented by Sh. J.S Bhogal, Publicity Secretary, CICU.
Sh. Mahesh Khanna, G.M, DIC-Ludhiana and Sh. Anagd Singh, Joint Secretary, CICU were also present in the program.
The program was attended by more than 125 participants from different industrial sectors like auto components, fasteners, garments & textiles, bicycle components, agriculture & horticulture machinery and machine tools etc.