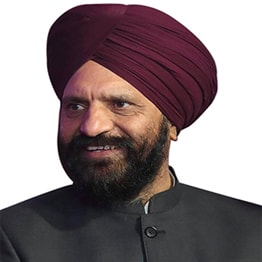 Upkar Singh Ahuja
(President)
Dear Members of Business Fraternity,
CICU is a dynamic service oriented organization playing development role with various levels of Industry & Commercial of Punjab State and the Country as a whole in general. It seeks to make business community's voice heard and taken into account in shaping the economic policies by government. CICU is playing an active role in interacting with various Government agencies for speedy development of Industry to complete world industries. Chamber is the only Organization in Punjab which has been accredited as Silver Standard by the Quality Council of India, New Delhi.
Other crucial areas requiring attention is implementation of Goods & Services Tax (GST) which can be game changer for the economy. The tax administration has to be improved to establish a non – adversarial and conducive tax environment. The tax regime should be based on the pillars of transparency predictability and sustainability. Reforming the Public Sector banks is necessary, if we are to achieve financial inclusion. MSME's & SME's require special focus especially with regard to access to credit.
While, we continue to raise and react to all pertinent issue concerning trade and commerce with various agencies at Central, State and Civic-body levels, we will always ensure that Growth with Governance remains at the heart of all our actions and intent.
I appeal to all CICU members to carry out their business with high morale, dignity and self-respect. Let us remain inspired and join more hands to work hard for achieving excellence.
With warm Regards,



(Upkar Singh Ahuja)
President
Chamber of Industrial & Commercial Undertakings