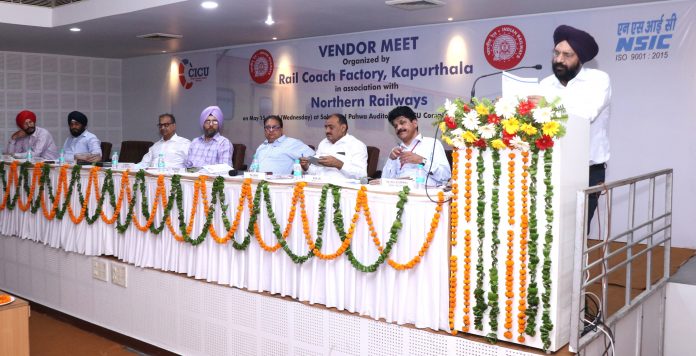 The program was started by lighting the lamp by Mr. T.P. Singh, G.M. (RCF/N.R), Mr. Upkar Singh Ahuja, President & Mr. Pankaj Sharma, General Secretary, CICU, Mr. A.K. Pandey, PED/RS, Mr. Raj Kumar Mangla, PCME/RCF, Mr. Rajesh Agarwal, DRM FEROZPUR, Mr. Gurpal Singh, Zonal Head NSIC, Mr. Major Singh, DIRECTOR MSME-DI, Mr. Ram Lal, PCMM N.R and Mr. Raj Singh, PCMM RCF.
Upkar Singh Ahuja, President, CICU while welcome all the dignitaries gave a brief working report of CICU. He also said that CICU attempt to bridge the gap between supplier and buyer, CICU has tried to arrange this platform. As Ludhiana is a hub of engineering industry especially small scale, it can be of great help for RCF. The Distance between Ludhiana and RCF-Kapurthala is not much longer compared to other states.
Sh. T.P. Singh, General Manager Rail Coach Factory and Northern Railway gave specially thanks to President of CICU, Mr. Ahuja for the gathering. He shared that new coaches are being develop and ample scope for Ludhiana industry to become the vendor of Indian Railways. He also shared achievements of Indian Railway.
Sh. Pankaj Sharma, General Secretary, CICU said that CICU will install helpdesk and guide members, who want to become members of the RCF. He also said that CICU feels that there is a lot of scope of doing business for Ludhiana industry and also tied with RCF to promote business for its members to use this facility.
A Training Session on "How to Become Vendor of RCF" was also organized.
The program was attended by more than 400 industrialists some by namely S/Sh. J.S Bhogal, Honey Sethi, Gautam Malhotra and other prominent members of the Chamber.