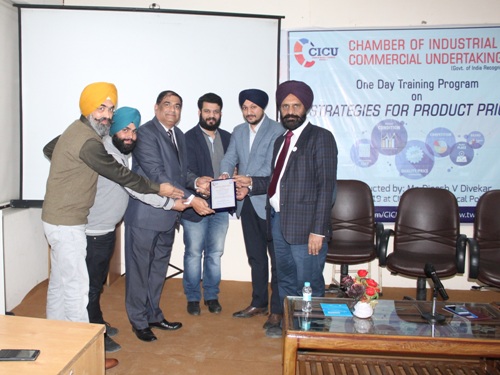 S. Upkar Singh Ahuja, President, CICU shared his views on how Good Strategies for Product Pricing are important and has become a very powerful tool for playing a vital role in business growth. He also said that this workshop provided to the participants the knowledge & overviews for successful uses and enlighten them to perform advanced optimization and analytical procedures.
He also said that the setting the right price of our product is always a challenge. If the product is sold at a premium price, profitability increases but its volume of sale decreases. If the product is sold economically, it might result in a higher sale but the margins shrink. Therefore, setting the right price is a perennial challenge. This programme defiantly helped the participants to address this challenge.
The session was conducted by Mr. DINESH DIVEKAR, Management Training Consultant, Bangalore. He covered Price and Costs, Dimensions of the quality of the product /service and its impact on the price, Price and Quality, Introduction to the Product Pricing Strategies, Understanding Price and Quality Matrix, Market Challenger, Niche Marketer & Market Follower, Strategies to Price Increase, Strategies to initiate Price Cuts and Strategy to become a Market Leader.
The participants actively interacted with faculty and raised their queries and concerns. They also suggested that more such programmes should be conducted by CICU to aware and sensitize industries at large.