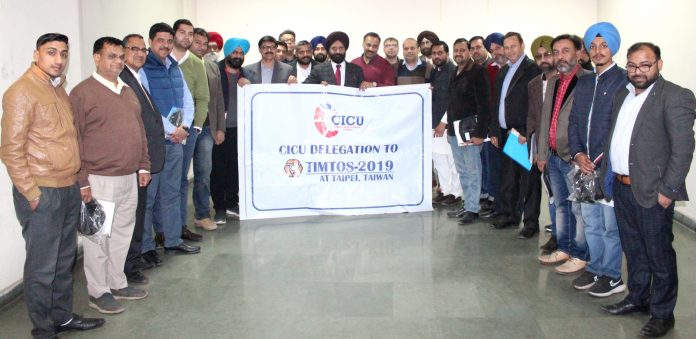 A high Level CICU Delegation comprising 37 members are visited TIMTOS-2019 at Taipei, Taiwan from 4 to 9 March, 2019.
He further said that the TIMTOS Exhibition is house a total of 1,230 exhibitors in 7,000 booths, creating a new record and becoming the world's third largest machine tool trade show in 2019. He also mentioned that the objective of the visit is to:-
Meet with the Exhibitors of Hi-tech Machinery & Equipment at exhibition to find out the sources from widest selection of Machine Tools across Asia.
Attend B2B meeting with TAITRA officials and to undertake factory visits of few companies at Tainan to motivate the delegation
Find out possibilities of promoting Bilateral Trade & Business.
Sh. Pankaj Sharma, General Secretary, CICU said that now-a-days Upgrading MSMEs has been backbone of the Industry to survive and to grow.  So, since long CICU has been striving hard for the growth and promotion of Ludhiana Industry.  Therefore, keeping in view the importance of making visits to International Trade Fairs and to be aware with latest technology, automation and modern techniques, CICU looks forward to Ludhiana Industry up-gradation through the aforesaid Delegation visit to TIMTOS.
Sh. Sanjay Talwar, MLA, Ludhiana Flagged off the CICU Delegation to Visit TIMTOS-2019 at Taipei, Taiwan. He also assured that he will join the next CICU delegation visit to International Exhibition.
37 members of the Chamber will visit TIMTOS by namely S/Sh. S.B Singh, Joint Secretary, CICU, Angad Singh, Joint Secretary, CICU, Didarjit Singh, Devinder Garg, Neeraj Dhamija, Bawa Singh, Ranjeet Singh, Kanwaljit Singh, Naresh Kumar, Ashish Bansal, Raghav Dhamija, Munish Bansal, Surinder Singh, Jaswinder Singh, Jatinder Pal Singh, Gundeep Singh Suri, Manraj Singh, Kamaljit Kumar Bhatti.