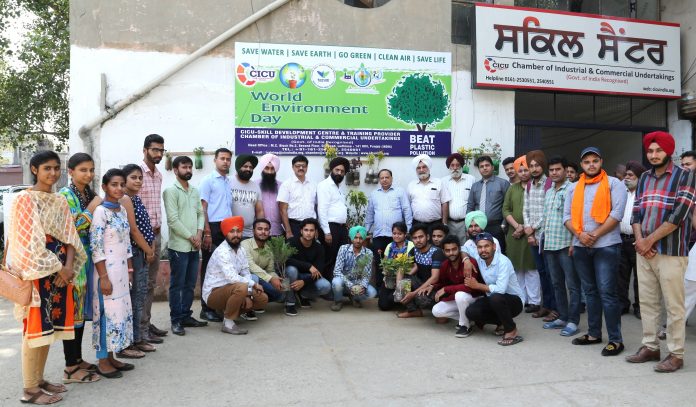 Today the World Environment Day Function was celebrated by Chamber of Industrial and Commercial Undertakings at CICU Skill Development Centre, M.C. Block No. 2, Second Floor, Gill Road Ludhiana with its NULM/PMKVY students and industry representatives. This function was inaugurated by Sh. Upkar Singh Ahuja President CICU.
S. Upkar Singh, President CICU said that mindless extraction and over exploitation of this small quantity of ground water has caused a rapid depletion and deterioration in its quality and quantity. He told that rain harvesting techniques would help in effective and proper use of rainy water, for improving underground water level. The drawings & design of Rain Harvesting Plant constructed at Chamber Complex was supervised by him. Practical demonstrations of rain harvesting techniques were held by him for effective implementation and proper use of rainy water. He requested the industrialists for installation such plants at their industrial premises.
Prof. (Dr.) Pritpal Singh Cheema, GNE explained the dire needs of environment protection in the present days and special attention to solid waste, air and water pollution. He also explained the global scenario of the same. Keeping in view the large population of India the situation is alarming so we have to take the necessary effective effect to save our earth, water and air and beat the plastic pollution.
Sh. Pankaj Sharma General Secretary CICU said that efforts at all levels needs to curve the pollution and save the environment to achieve the Swachh Bharat Abhiyan. This program will help to aware the society on importance of preservation of the environment for the coming generations.
Highway Industries Ltd.  Gave a presentation on Environment Protection in their organization.
Chart Competition was organized on the theme of the event in which Six Team of Skill Training Candidates has taken part. 1st, 2nd and 3rd team was awarded for their excellent work on the theme. Plantation drive was also organized in which many students, staff and CICU Members took active parts. More than 100 sapling were planted to keep the area green.
Many senior management persons of CICU and industrialists like S/Sh. Satinderjeet Singh Prop. M/s Autom Engg., Didarjit Singh Partner M/s Karam Chucks, Gurcharan Singh Mankoo Prop. Mankoo Industries, Ansol Marketing Manager Sangeeta Steels and HR Manager Highway Industries also their experience on the subject.